Low Rates, High Competition Fuel Lightning-Fast Home Sales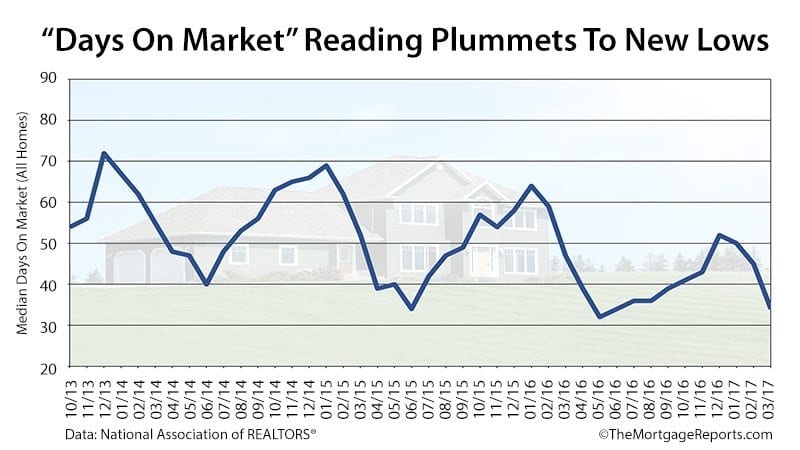 Are Homes Selling Too Quickly?
The housing market is on fire.
Stiff competition is defining 2017 thus far -- multiple offers and even bidding wars are becoming the norm, not the exception.
Falling rates have helped fuel quick home sales. As 2017 began, rates appeared to be heading toward 4.5%. Instead, they fell below 4% for the first time this year.
Home sales are taking off, hitting a 10-year best in March, at an annual rate of 5.71 million units. That is only bested by an ultra-strong February more than a decade ago.
For home buyers, it could be time to enter the market. Prices are rising, and it does not look like competition will cool off in 2017.
Click to see today's rates (Aug 23rd, 2017)
Existing Home Sales: 5.71 Million Homes Sold Annually
Each month, the National Association of REALTORS® publishes its Existing Home Sales report, a tally of sold homes which have been previously occupied, or are otherwise not considered as "new construction".
The trade group's March 2017 report shows 5.71 million homes sold on a seasonally-adjusted annualized basis, a three percent increase from the month prior.
Strength in housing has been attributed to low mortgage rates, rising rents, and a simpler approach toward mortgage approvals for many U.S. banks.
Demand for homes has been high -- so much so that supply can't keep up. There are now just over 1.8 million homes for sale nationwide.
At the current pace of sales, the entire stock of homes for sale would "sell out" by July.
In March, Median Days on Market for an MLS-listed home was just 34 days. This is the fewest number of days for any March in the last five years.
March 2012: 91 days
March 2013: 62 days
March 2014: 55 days
March 2015: 52 days
March 2016: 47 days
Typically, Median Days On Market bottoms out in June, then rises. Each year, though, homes are selling faster -- even before summer hits.
Spring is starting to look more like summer as far as the speed of sales is concerned. That's troubling: Days On Market is set to hit all-time lows this summer if the pace continues.
The wise home shopper, then, will start their home search in earnests before the summer buying season. Compared to demand, there could be fewer homes available than any time in history.
Click to see today's rates (Aug 23rd, 2017)
Get An Accepted Offer: Write A Letter About How You Will Use The Home
The March Existing Home Sales report showed homes selling quickly. Homes typically sold in 34 days last month -- a 27% decrease over the year prior.
Some locales are experiencing even faster sales.
San Jose-Santa Clara, California: 24 days
San Francisco-Oakland, California: 25 days
Seattle-Tacoma, Washington: 28 days
Denver, Colorado: 28 days
Vallejo, California: 31 days
It's no wonder homes are selling at this clip. The NAR reports just 1.83 million homes for sale in the U.S. in March.
There are about half-million fewer available homes compared to the same month in 2012.
That could be why more buyers are turning to cash.
All-cash sales accounted for 23 percent of all sales in March, according to NAR. That could be making it harder for mortgage-approved buyers to get their offer accepted.
Most sellers would accept a purchase offer not requiring mortgage financing. There are fewer delays, and closings can happen faster.
Cash offers often come from investors who plan to turn the home into a rental. In March, fifteen percent of all homes were purchased by investors.
That's why, as a mortgage-reliant buyer, it makes sense to obtain a pre-approval for a mortgage early.
Include a letter from your lender stating how impeccably qualified you are for the loan. Put up as much earnest money as possible, and make your offer appear very serious.
Another piece of "ammunition" is to write a letter stating how you plan to use the home. Sellers have been known to accept a slightly less favorable offer because a family planned to live there.
Competition is fierce. Don't be afraid to use every advantage at your disposal -- even sentimental ones.
The Disappearing Starter Home
This is not news to the first-time home buyer: starter homes are hard to find.
Data from the March Existing Home Sales report shows why. Compared to one year ago, sales of homes priced below $100,000 are falling fast -- down seven percent since last year -- even as total home sales are up nearly six percent.
And, sub-$100,000 home sales made up only twelve percent of the market in March.
Sales of homes priced between $100,000 and $250,000 aren't faring much better. Nationwide, home sales in this range grew 4.9% year-over-year. But it's a different story by region.
In the west, where anything below two hundred fifty thousand dollars is considered a very reasonable starter home, sales were down more than nine percent.
Surprisingly, the strongest sales growth is for homes priced between $750,000 and $1 million: up 32% since last year.
No doubt, it's tough out there for the first timer. Yet, low down payment loans are providing some relief, helping families afford more by requiring less upfront.
These loan programs require five percent down or less:
FHA home loan
VA mortgage
HomeReadyTM
Home PossibleSM Advantage
Editor's Note: See an explanation of each low down payment mortgage here.
Plus, mortgage rates today are low, keeping monthly costs in check.
Homes are still affordable, and today's first-time home buyer is in a good position to get into the right starter home -- if they can find one.
What Are Today's Mortgage Rates?
With mortgage rates still low, sales of homes are soaring. The best deals you find in housing may be the ones you get today.

Get today's live mortgage rates now. Rates are available with no social security number required to get started and all quotes come with access to your live mortgage credit scores.

Click to see today's rates (Aug 23rd, 2017)

The information contained on The Mortgage Reports website is for informational purposes only and is not an advertisement for products offered by Full Beaker. The views and opinions expressed herein are those of the author and do not reflect the policy or position of Full Beaker, its officers, parent, or affiliates.

Posted by Jane Doe on